Security Staff
We're looking for a highly competent security officer to join our team to monitor the premises and protect our valued staff, visitors, tenants, and inventory. Our ideal candidate will have prior experience as a security officer or guard, as well as training in self-defense and first aid. He or she will have a sharp eye with quick reaction time in the detection of any suspicious or criminal behavior, and prevention of theft or vandalism.
Responsibilities:
• Patrol property on foot, securing personnel, assets, buildings, gates, and fence perimeter are secure in all weather conditions;
• Investigate and take the appropriate lawfully action as authorized by the corporate policy on accidents, incidents, trespassing, suspicious activities, safety and fire incidents;
• Control and monitor surveillance equipment, and perform building and equipment inspections;
• Guard access points, permitting or refusing entry, restraining trespassers, and direct heavy traffic during start and end of business hours;
• Complete daily reports, including relevant information, observations, surveillance footage, and signatures;
• Secure all doors, windows, and exits, depending on shift.
Benefits:
• Annual leave according to the gov norms;
• Bonus included;
• Medical Insurance covered.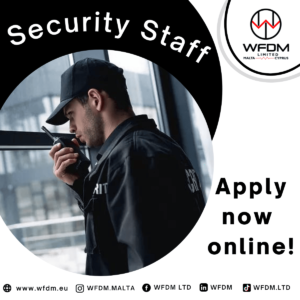 Job Category:
Security Staff