How to Write a Good CV
Your curriculum vitae is one of the basic prerequisites when applying for a career opportunity. You want to ensure that your CV meets the employer's standards and requirements. This way, you will have a higher chance of getting your desired job. That's why, if this is your first time making a CV, here are some tips and tricks on how you can write a good CV:
Make Your CV Easy to Read
No employer or recruiter wants to read a lengthy resume. After all, it only takes 15 to 20 seconds to scan all the information in your CV and proceed to the next applicant. That's why you should use clear and concise sentences to make your CV easy to read.
You can use bullet points or simple phrases instead of complete sentences. You also want to use active verbs to describe your previous experiences. For example, you can use the words "developed," "created," "managed," and "led." This way, the employer will know your responsibilities and how you helped the company achieve its goals.
Look at this sample CV for reference: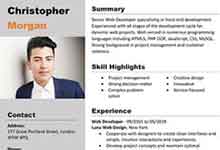 Image taken from coolfreecv.com
Save a Word and PDF File of Your CV
Proofread Your CV
Before you submit your CV, proofread it to ensure it's free of errors. This includes spelling and grammar mistakes, as well as typos. You also want to ensure that your CV is easy to read and understand.
If you're not confident in your proofreading skills, you can ask a friend or family member to review your CV. You can also use a free online proofreading tool, such as Grammarly.
Final Thoughts
A good CV should highlight your key skills and accomplishments, be clear and concise, and avoid grammatical or spelling errors. Following these tips and tricks will help you create a strong CV that will increase your chances of landing an interview.
If you're applying for a position online, it's important to save your CV in Word and PDF formats. This is because recruiters often receive CVs in both file formats.
When you save your CV as a PDF, you ensure that the format and layout of your CV will stay the same, no matter what device or platform the employer uses to view it. This is important because you want your CV to look professional and well-organized, regardless of where it's viewed.
If you save your CV as a Word document, the employer will edit the document if they need to once you're hired. This is important because the employer may need to make changes to your CV, such as changing the font size or adding their logo.
Add a Cover Letter
A cover letter must be included when you submit a job application. A cover letter is a one-page document that introduces you to the employer and explains why you're the best candidate for the position.
You should tailor your cover letter to the specific job you're applying for. It's a good idea to mention the skills and qualifications that make you a good fit. You should also note your interest in the company and explain why you would be an excellent addition to the team.
Many templates and examples are available online if you're unsure how to write a cover letter. You can also seek a friend or family member to review your cover letter to ensure it's well-written and error-free.
Refer to this picture for reference:
How to Write a Good CV
How to Write a Good CV